Library Login Help
---
See the catalog sign-in help page
for current information about logging in to databases or checking out ebooks.
Library Databases
---
Library databases are the source of digital content like journal articles and online reference books.
Our
Discovery
link searches many databases at once, but if you know you need to use a particular database, you can use it directly.
Some popular databases are:
Resources for Online Students
---
Library resources and support are available to distance learners as well as those on campus.
Here are some things for online students to know:
You have access to all of the digital/electronic resources in the library.

If you don't have a physical ID card, you can find your library barcode number (used for some library logins) on Portal: Directory --> "Me" tab --> Library Barcode.

For print books, we recommend the following:

1) See if your local public library offers an interlibrary loan (ILL) service, and request your books through that. They may come to you from MLC or from another library. There is usually no charge for this service.
2) If ILL is not a good option, you may request that we mail books to you. We don't charge for mailing them to you, but you'll be responsible for any costs in returning them to us.

For articles that are not available through MLC databases:

1) Check MNLINK to see if the article is available from another Minnesota library. (Set your search to "Articles.") Use the "Request Item" button and log in with your library barcode and password to request the article. Articles are usually delivered via email within a day or two.
2) Fill out our ILL request form to see if we can find the item from another library. Articles will be emailed to you within a few days.

If you need help with library resources, please call us at 507-233-9131 or email libraryhelp@mlc-wels.edu. We are happy to help!
Ebooks
---
The MLC library has ebooks available through several different services.
Some allow you to check out a book for a period of time, just like a regular library book. Others allow use for multiple people at one time. You may be able to print and/or save sections of a book.
The best way to find ebooks is by using the library's catalog.
Search for a book, and at the top of the results list, you can click the "Available Online" button to see your digital options, including ebooks and some audiobooks.

You'll see two different buttons for checking out ebooks
.
Check Out from Overdrive/Libby: Downloading the Libby app is the best option for these. You'll log in with your library card (MLC ID barcode) number and library password. (See the catalog's sign-in help page for password information.)

MLC Users Online Access: If you are on campus, you shouldn't need to log in. If you're off campus, a login page will pop up, and you'll use your MLC login (same as Portal and Moodle) for access.

Some ebooks may also be found while searching Discovery.
They will say eBook and have a link to the full text of the book, which might be EPUB, PDF, or another format.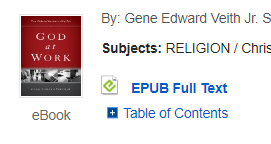 How to Find Peer-Reviewed Journals Using Discovery
How to Read an Entire Journal Online
Using Gale Literature Resource Center